SOUP KITCHEN

SRUJAN
NEWS & MEDIA
"Educated and raise the masses, and thus alone a
nation is possible."
Swami Vivekananda
Qualiance International Pvt. Ltd., Malad, Mumbai, has continued its support to VYF's "Swatah" Project. This is the FOURTH consecutive year wherein the company led by Mr. Vipul Badani has extended the sponsorship of educating 10 children for the Academic Year 2017-2018.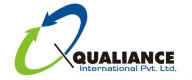 VIVEKANANDA
YOUTH FORUM
Vivekanada Youth Forum is a non-profit,
voluntary organization managed by
young members who wish to make a
difference to their own lives and to
empower those less fortunate in areas of
education, health, and creativity.